50 Years of VSI
VSI will celebrate 50 years of working for peace and international understanding in 2015.
We feel the year has great potential -
To raise the profile of VSI; Press and Publicity opportunities; TV/radio programme;
To reconnect with past members/volunteers
To revitalise VSI
To seek fundraising possibilities –company sponsorship
We are looking for ideas for projects, events and activities which could contribute to the success of the year for VSI. But most importantly we are looking for people to get involved in helping us to make 2015 a year to remember for VSI.
Get in touch with the team at the VSI office for more details.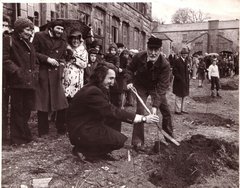 Spike Milligan planting trees with VSI members at Glencree 1974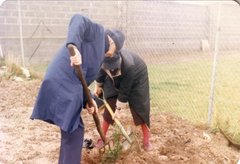 Conrad and Dorothea Leser planting a tree in Waterford during the 25th Anniversary of VSI.
Read the February 2015 50 Years Bulletin with updates and news here
Read the April 2015 50 years Bulletin with updates and news here
Read more about  the VSI Digital History Project here