EVS in France 2
VSI is looking for 2 volunteers to work with our partner organization in the city of Attigny, France. The town holds only 1200 inhabitants and is located right next to the Belgian Border.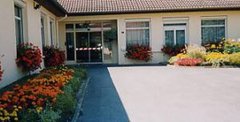 Project Title: Foyer La Baraudelle 
Theme: Working with individuals with disabilities
Project Description:
Foyer La Baraudelle is a day care centre that provides specialized accommodation for adults with a physical or/and cerebral disability. 
The Work:
The volunteers will assist in organizing or implementing leisure activities for the residents, for example, handicrafts, computer and cooking workshops, outings, games… He/She/They will also have the possibility to take part in activities in the educative farm (little farm with a horse, rabbits and production of vegetables) of the Centre.
Qualifications/Skills:
Volunteers should be patient, empathic and responsible. He/She/They should like to help others, be willing to work with disabled people and have a good capacity to adapt. Basic knowledge of French is very helpful. Volunteers should be willing to live in a rural environment and like to be in contact with nature. 
Location: Attigny
Practical Details:
Volunteers will have their own rooms in a fully equipped house between the Centre and the farm. They will share the house with a volunteer doing an EVS in the Municipality of Attigny. 
Other Info:
We are recruiting 2 volunteers from Ireland to take part in this project and join the Foyer La Baraudelle to aid individuals with disabilities.
Placement Dates: September 2017 - June 2018
Application Deadline: 12th of March
Application Procedure:
Send all documents indicated below in one e-mail to Mateja in VSI: ivp@vsi.ie
- Your CV
- Motivation letter appropriate for the project
- Completed application form called Questionnaire SVE that you can find on our webpage: http://sve.jeunes-ca.fr/looking-for-an-evs/
If you are preselected you will be contacted for a Skype conversation. The final decision is expected in the beginning of April.
More Info:
More information about the vacancy can be found on the project website:
http://sve.jeunes-ca.fr/looking-for-an-evs/foyer-la-baraudelle/
VSI contact details:
ivp@vsi.ie
+353 1 855 1011
+353 87 336 7275
Any questions regarding EVS Vacancies? Contact Mateja in VSI: ivp@vsi.ie