EVS Albania 1
VSI are searching for 3 volunteers  to work with our partner organisation 'Projekte Vullnetare Nderkombetare' (PVN) based in Tirana, the capital of Albania, for 10 months with flexible start date.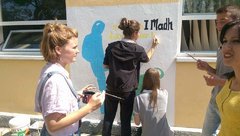 Project Title: Projekte Vullnetare Nderkombetare (PVN)

Theme: Working with blind people and others with disabilities

Project Description:
Projekte Vullnetare Nderkombetare (PVN) is VSI's branch in Albania. Since its foundation in January 2005 PVN has worked internationally, exchanging volunteers worldwide. The main activities of PVN are international volunteer projects, trainings and youth exchanges.  PVN organizes approximately 8 international volunteer projects every year, where 10-15 participants from different countries work together with social groups, young people, on environmental issues etc. 

The work:
  for Human rights education EVS (x 2 volunteers) 
Since political and economic changes in Albania in the early 1990s internal migration has developed with more than 20% of the population migrating from rural areas. This project focusses on human rights education with young people, most of whom are internal migrants. Two volunteers will work on raising these young people's awareness on human rights and interculturalism, using non-formal education methods. The volunteers will also promote a cultural centre to young people.  Training in non-formal education methods and Albanian language training will be provided for the volunteers.
This is a fantastic opportunity for the volunteers to develop skills in human rights education and youth work.

  for Increasing social inclusion of disabled people EVS (x 1 volunteer)
Promoting volunteering to people with disabilities to promote their participation and inclusion in local voluntary activities. The volunteers will provide information and raise awareness about voluntarism and disability. Together with the PVN team the volunteers will meet local organizations and people with disabilities to promote inclusion and participation in society of disabled people through promoting volunteering by disabled people; the volunteers will also raise awareness about disability inclusion in schools, universities, social networks etc.
The volunteers will also work 2 days a week with people with disabilities helping in their daily care and providing support. Through this part of the work the volunteers will learn about disability care and support in Albania. This is a fantastic opportunity for the volunteers to gain first-hand experience and understanding of social and cultural differences in disability services and support between Ireland and Albania.
All 3 volunteers will also:
-Work in the PVN office on placements for short-term volunteer projects. The volunteers will liaise with partner organizations and volunteers, prepare info sheets, maintain the database and help the team with the preparation meetings for outgoing volunteers. This is a great opportunity to meet both Albanian and international volunteers as well as the host organizations in Albania, it will increase your intercultural learning and you will experience how an international NGO functions.
-Work at a local arts and culture centre to encourage young people to explore and develop their cultural and artistic skills. The volunteers will organize intercultural events, promote non-violent communication, diversity and tolerance, work with volunteers on artistic productions with recycled materials, as well as promoting engagement of vulnerable and hard to reach young people, including those with disabilities, in the centre and it activities. 

Qualifications/skills:
No qualifications or experience are required. Volunteers must be interested and motivated to work with people with disabilities, in disability rights, youth and international volunteer exchange.  As it is not necessary for you to have previous experience, the strongest criterion is your motivation.

Location: Tirana 

Practical details:
You will receive free accommodation (in your own room in a shared apartment with other volunteers/young people), food, insurance and monthly 'pocket money'. The only thing you might have to pay is a very small part of your travel costs.

Other info: We are recruiting 3 volunteers for this project from Ireland, who will work with the PVN team of staff and volunteers, other EVS volunteers may work alongside you.

Placement dates: Flexible start date, 10 months duration

Application deadline: Flexible

Application procedure: Complete the application form here. Send completed applications forms to Mateja in VSI: info@vsi.ie. Volunteers will be interviewed over skype by VSI/the host organisation.

More info:
Link to website: http://www.pvnalbania.org/
This partnership is a project between VSI and the host organisation. VSI is the only organisation recruiting volunteers for this project and it is not listed on the EVS database.