EVS in Armenia 1
Disability support for children and young people in Armenia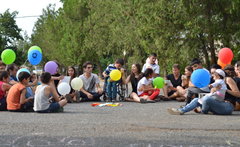 Project Title: REHA (Rehabilitation Centre) in Yerevan, Armenia

Theme:  Disability support for children and young people

Project Description:
The centre provides rehabilitation treatment for young people and children who have various disabilities. Over 800 patients receive treatment here annually.  Rehabilitation theory and practice is a new and developing area in Armenia, this is an opportunity for the volunteer to participate in in this developing field and support the children's development, independence and social integration.
REHA has many years' experience of hosting both short and long term international volunteers and the staff are experienced and committed to working with volunteers and providing them with a rich learning experience.

The work:
The main aim of the project is to work with children who have different physical disabilities, to educate and train them and to support their social integration. Tasks include supporting the staff to organize and deliver arts workshops, establishing social contact with individual children and their parents by for example chatting and playing games with them, present her/his country and culture to the children, taking part in recreational activities for the children such as excursions, sports and outdoor activities, social activities, playing with the children, organizing an exhibition of the art works by the children.  The volunteer will be involved in discussions about the support provided to the children and will be encouraged to propose her/his own ideas and suggestions.
Support and training will be provided by the staff of the organization and by the community.

Qualifications/skills:
Motivation and enthusiasm to work with disabled children are needed, as well as understanding and patience.  No specific qualifications or experience are required. This project would suit someone who is interested in working in the disability sector, nursing and health care, social care, occupational therapists etc. or anyone who is interested in learning more about the topic and Armenia.

Location: Yerevan

Practical details: You will receive free accommodation (in a shared apartment), food, insurance and monthly 'pocket money'. The only thing you might have to pay is a very small part of your travel costs.

Other info: There is 1 EVS place on this project.

Placement dates: Flexible start date, 10 months duration

Application deadline: Flexible

Application procedure: Complete the application form here. Send completed applications forms to Mateja in VSI: info@vsi.ie. Volunteers will be interviewed over skype by VSI/the host organisation.

More info:
This partnership is a project between VSI and the host organisation. VSI is the only
organisation recruiting volunteers for this project and it is not listed on the EVS database.