EVS in Armenia 2
Working with vulnerable children and young people in Armenia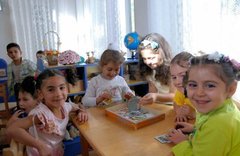 Project Title: SOS Kotayk Youth

Theme: Youth

Project Description:
SOS Children's Villages aims to strengthen local families by offering access to essential education, nutritional and health services; offering support to families who are at risk of abandoning their children, and enabling children to grow up within a caring family environment. Together with local authorities and other agencies, SOS Children's Villages supports families and helps them to take care of their children. After the devastating earthquake in Armenia in December 1988, SOS Children's Villages offered immediate aid to the children who had lost their parents. Following on from these emergency relief activities, the organization then started offering long-term support to the families and children in the region.  The SOS Youth Centre was established in 2001 and if focusses on preparing young people to live independently in society.

The work:
The main aim of this EVS project is to educate and train children and young people. The volunteer's tasks include supporting the staff to organize and deliver art workshops, establishing social contact with individual children and young people by for example chatting and playing games with them, present her/his country and culture to them, taking part in recreational activities for the children such as excursions, sports and outdoor activities, social activities, playing with the children, organizing an exhibition of art by the children. The volunteer's main activities are in the SOS Village in Kotayk and s/he will also be involved in some activities in the SOS National Office in Yerevan, 3 Youth facilities in Yerevan and will have trips to village "Family Centres". 
The volunteer will be involved in discussions about the support provided to the children and young people and will be encouraged to propose her/his own ideas and suggestions.
Support and training will be provided by the staff of the organization and by the community.

Qualifications/skills:
No specific qualifications or experience are required but motivation and enthusiasm to work with children and young people are needed.  An interest in learning more about teaching, youth work, developing teaching skills and organizing teaching and playing groups would be useful. The volunteer will be taking part in drawing, dancing, handicrafts and music sessions, skills in these areas are not essential but would certainly be useful! This project would particularly suit someone who is interested in working in the field of education or anyone who is interested in learning more about the topic and Armenia.

Location: Kotayk (approx. 15 km north of Yerevan)

Practical details: You will receive free accommodation (in a shared apartment), food, insurance and monthly 'pocket money'. The only thing you might have to pay is a very small part of your travel costs.

Other info: There is 1 EVS place on this project.

Placement dates: Flexible start date, 10 months duration

Application deadline: Flexible

Application procedure: Complete the application form here. Send completed applications forms to Mateja in VSI: info@vsi.ie. Volunteers will be interviewed over skype by VSI/the host organisation.

More info: Link to website: http://www.sos-childrensvillages.org/where-we-help/asia/armenia/kotayk
This partnership is a project between VSI and the host organisation. VSI is the only organisation recruiting volunteers for this project and it is not listed on the EVS database.