EVS in Austria
VSI has two exciting volunteering opportunities for young people with disabilities age 18-30.
They are taking place in Vienna, Austria during 2017. These are European Voluntary Service (EVS) projects and they are funded by the EU.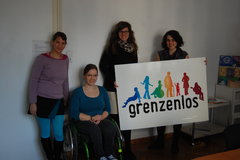 Project title: Grenzenlos
Theme: Working with an International NGO promoting peace and tolerance

Project Description:
Grenzenlos is a non profit and non governmental organisation with an aim to promote peace an tolerance through international non formal education programmes that combine cultural integration with engagement in non profit initiatives worldwide.
Context:
Volunteering opportunities for young people with disabilities are limited, VSI and Grenzenlos want to change this, we work with young people and organizations to support young people with disabilities to volunteer.
One thing we are offering is the international experience itself: a life-changing one for almost everybody. 
Work:
Helping the staff and volunteer team at Grenzenlos on delivering our programmes, meeting volunteers and arranging placements, meeting our host organizations to arrange the volunteer projects, supporting volunteers on the projects in Austria.
Additionally, your expertise could be used to adapt and improve the projects/ programmes/ activities/ implementations to the needs and capacities of the volunteers. As each volunteer will have different mobility and different support needs, each of our projects will be different. As mentioned before, Grenzenlos' focus on working with people with disabilities means that there is a constant need of knowledge and expertise that a volunteer with disabilities could give: as a peer-volunteer for other volunteers with and without disabilities.
Volunteers will learn about working in an NGO,
Volunteers will learn about international youth exchanges and voluntary service
Volunteers will have the possibility to get to know other social institutions in Vienna.
Qualifications/skills:
A volunteer working within Grenzenlos doesn't need any special experiences nor specific working skills, neither special language skills. The only thing which we expect from a volunteer is the motivation to work within our organisation. "Grenzenlos" is only available for volunteers with a physical disability. As our project will be very tailor-made to the individual volunteer, it is hard to say which profile a volunteer should have. We would welcome in any case volunteers that are open to new experiences, willing to try new things and to challenge their personal limits.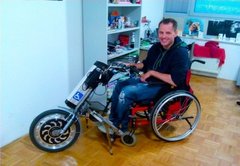 Location: Vienna 
Practical details:
Travel, accommodation and a small personal allowance are provided. We have funding for personal assistant for 6 hours per day plus 1 hour free time, plus other potential costs e.g. hoist, voice recorder if needed. Extra language training is also provided in advance and during the project. We have also planned a short visit to the project in advance of the start dates, this is to allow the volunteers to see where they will be working and living, meet people with whom they'll be working, try getting around the city on public transport, shopping, socialising etc.
There is wheelchair access at the workplace but although it is not quite full accessible, former volunteers on the project have managed it very well. One of these, Eeva from Finland describes her experiences, read her story here. The accommodation is fully accessible.
Placement dates: 
One project is for 6 months starting in May. Second project is a 3 week project to take place in either June or August. 
Perhaps you would like more information, if so please contact Mateja in VSI. If you think it would be useful we can come to meet with you or your organization, just get in touch with us.
Application procedure: Complete the application form here. Send completed application forms to Mateja in VSI as below and we will be in touch. If you require any support with the application please contact Mateja. 
Application deadline: flexible
VSI contact details:
ivp@vsi.ie
+353 1 855 1011
+353 87 336 7275