EVS in Bosnia and Herzegovina
Working with vulnerable children, young people and adults in Bosnia and Herzegovina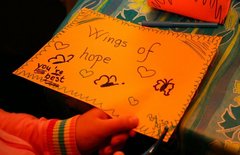 Project Title: Wings of Hope

Theme: Human rights, social inclusion, youth, community

Project Description:
The Foundation Wings of Hope was founded in Bosnia and Herzegovina in 1994 as part of the international network Wings of Hope International with the mission of providing post-traumatic relief primarily to the children and youth victims of war as a mean of their reintegration into the social life. The founding idea of the Foundation Wings of Hope was developed through the Dachau Memorial Centre, by the children of people who were imprisoned there. With time, its objectives changed from dealings with war trauma to human rights, empowerment, and social inclusion. Now the Foundation Wings of Hope is a non-profit, grassroots organisation whose mission is to help the most vulnerable members of society, who are falling through the cracks of the system in Bosnia and Herzegovina, to protect their human rights, and to empower them to recover their dignity and to become active members of society.

The work:
The volunteers will assist with supporting the WoH team running various workshops with children and young people as well as with groups such as vulnerable women, minorities, and members of the LGBTI community; s/he will take part in workshops which have an objective of improving the overall group dynamics and enhancement of individual communication skills. S/he will be able to learn about group interaction, creative work, active learning and development of social skills.
The volunteer will also assist with other work of WoH such as research, funding applications and evaluations.  S/he will contribute to the development of various WoH projects. 

Qualifications/skills:
No qualifications or prior experience are required. Understanding, patience and motivation and enthusiasm to work with the target groups are required.  

Location: Sarajevo

Practical details: You will receive free accommodation (in a shared apartment), food, insurance and monthly 'pocket money'. The only thing you might have to pay is a very small part of your travel costs.

Other info: 1 place for a volunteer from Ireland who will work with the Wings of Hope team.

Placement dates: Flexible start date, 10 months duration

Application deadline: Flexible

Application procedure: Complete the application form here and return to Mateja in VSI: info@vsi.ie. Volunteers will be interviewed over skype by VSI/the host organisation.

More info:
Link to website: http://wings-of-hope.ba/
This partnership is a project between VSI and the host organisation. VSI is the only organisation recruiting volunteers for this project and it is not listed on the EVS database.

Read about VSI volunteer Paul Cleary's EVS experience with Wings of Hope here.