EVS France 1
VSI is looking for 2 volunteers to work with our partner organization in the beautiful city of Reims, France. The city holds 200,000 inhabitants, and is located 150km to the east of Paris.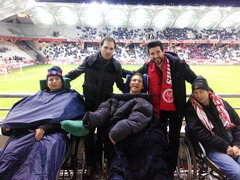 Project Title: MAS Marc Toussaint
Theme: Working with individuals with disabilities
Project Description: 
MAS Marc Toussaint is a non-profit organization located in Reims. MAS supports people with physical disabilities through providing accommodation and in everyday life (toilets, meals, dressing…).  All inhabitants are adults, most of them are dependent for everyday life activities; some can easily communicate, while others communicate in a non-verbal way. Some residents have a motor disability accompanied by a light or a medium intellectual disability. Thus, the types of disability can vary widely. 
The Work:
The volunteers will get to know the residents, their habits and what assistance is needed, thus, the project brings fulfilling and interesting exchanges. Moreover, volunteers will work together with the animation team, thus, they will be involved in a support role and in implementing leisure activities.  The volunteers will not be involved in health care or professional tasks. 
Qualifications/Skills: 
Volunteers should be patient, empathic and responsible. He/She/They should like to help others and have an interest in working with individuals with disabilities. Volunteers should be ready to take initiatives as well as have a good capacity to adapt and for flexibility. Basic knowledge of French would be useful but language training is provided. 
Location: Reims
Practical Details: 
Volunteers will live in one of the organisation's apartments with separate access and a fully equipped kitchen and bathroom.  Volunteers eat some of their meals meal with the residents and employees during work-time and money is provided for the volunteers to buy food for their other meals.  Volunteers will receive tickets for local public transport. 
Other Info: 
We are recruiting 2 volunteers from Ireland to take part in this project and join the MAS Marc Association to aid individuals with disabilities. 
Placement Dates: September 2017 - June 2018 
Application Deadline: 12th of March 
Application Procedure:
Send all documents indicated below in one e-mail to Mateja in VSI: ivp@vsi.ie
- Your CV
- Motivation letter appropriate for the project
- Completed application form called Questionnaire SVE that you can find on our webpage: http://sve.jeunes-ca.fr/looking-for-an-evs/
If you are preselected you will be contacted for a Skype conversation. The final decision is expected in the beginning of April. 
More Info: 
More information about the vacancy can be found on the project website:
http://sve.jeunes-ca.fr/looking-for-an-evs/mas-marc-toussaint/
VSI contact details:
ivp@vsi.ie
+353 1 855 1011
+353 87 336 7275
Any questions regarding EVS Vacancies? Contact Mateja in VSI: ivp@vsi.ie