EVS in France 3
VSI is looking for 1 volunteer to work with our partner organization in the city of Attigny, France. The town holds only 1200 inhabitants and is located right next to the Belgian Border.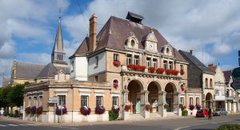 Project Title: Municipality of Attigny
Theme: Working with Youth and Children
Project Description:
The Municipality of Attigny is a department that is heavily involved in the local education of children.
The Work:
Volunteers will help organize leisure and educational activities for the children in the local town school. Volunteers will be expected to propose different games and playful activities to the children in order to help raise awareness of international solidarity and promote intercultural harmony. To promote active engagement in the community, and to make such activities accessible to all dependent inhabitants in the area, Volunteers will have the opportunity to work with the local non-profit organization to improve these social links. 
Qualifications/Skills:
Volunteers should be open-minded, positive, and responsible individuals. Volunteers should enjoy working with children; they should be ready to take initiative when needed, and have the ability to adapt to adverse situations. He/She/They should be willing to live in a rural environment and be comfortable with close contact to nature. Though the additional skill of basic French would be very helpful, since little speak a foreign language in the town, it is not required for any volunteers to have previous knowledge of the language. Language advancement opportunities can be provided on site. 
Location: Attigny
Practical Details:
Volunteers will work, on average, 35 hours/week. Every volunteer will have his/her/their own room in a fully equipped house that they will share with two other EVS volunteers of the Foyer La Baraudelle programme. For the first couple of weeks, food will be provided to volunteers who will eat together alongside the Foyer La Baraudelle staff. After the first couple of weeks, money for food will be provided to volunteers to buy groceries and make their own meals. 
Other Info:
We are recruiting 1 volunteer from Ireland to take part in this project and join the Municipality of Attigny project to work with children and youth of the community.
Placement Dates: September 2017 - June 2018
Application Deadline: 12th of March
Application Procedure:
Send all documents indicated below in one e-mail to Mateja in VSI: ivp@vsi.ie
- Your CV
- Motivation letter appropriate for the project
- Completed application form called Questionnaire SVE that you can find on the webpage: http://sve.jeunes-ca.fr/looking-for-an-evs/
If you are preselected you will be contacted for a Skype conversation. The final decision is expected in the beginning of April.
More Info:
More information about the vacancy can be found on the project website:
http://sve.jeunes-ca.fr/looking-for-an-evs/municipality-of-attigny/
VSI contact details:
ivp@vsi.ie
+353 1 855 1011
+353 87 336 7275
Any questions regarding EVS Vacancies? Contact Mateja in VSI: ivp@vsi.ie