EVS in France 4
VSI is looking for 1 volunteer to work with our partner organization in the beautiful city of Reims, France. The city holds 200,000 inhabitants, and is located 150km to the east of Paris.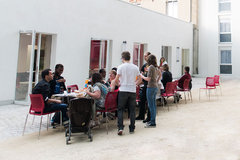 Project Title: Association Noël Pandavoine 
Theme: Working with young workers (aged 16-25) facing economic and social difficulties
Project Description:
Association Noël Pandavoine is a non-profit organization that provides housing for young workers (between the ages of 16 and 25) who are facing economic and social difficulties. The organization offers a number of different services to their residents such as access to computer rooms, community sports, cultural activities, and organized outings. 
The Work:
Volunteers will assist the educational branch of the organization by taking part in and implementing leisure-time activities in the afternoons, as well as facilitate workshops such as cooking, hiking, or wood crafting. Volunteers will also have the opportunity to propose workshops on their desired area of interest related to their cultural heritage in order to promote intercultural solidarity and awareness among the youth workers. 
Qualifications/Skills:
Volunteers should be open-minded, positive, and responsible individuals who are tolerant of people from different backgrounds. Volunteers should enjoy working in the social welfare field and be highly motivated to lead different activities for the youth workers. They will be expected to take initiative when needed and have the ability to adapt to adverse situations. Though the additional skill of basic French would be useful, no volunteer is required to have any prior knowledge on the language. Language advancement opportunities can be provided on site.
Location: Reims
Practical Details:
Volunteers will be hosted in one of the apartment blocks managed by the Association, in the centre of Reims. Each block houses roughly 70 of the youth workers. Money will be provided to the volunteers to compensate for meal expenses. 
Other Info:
We are recruiting 1 volunteer from Ireland to take part in this project and join the Association Noël Pandavoine project to work with the youth community.
Placement Dates: September 2017 - June 2018
Application Deadline: 12th of March
Application Procedure:
Send all documents indicated below in one e-mail to Mateja in VSI: ivp@vsi.ie
- Your CV
- Motivation letter appropriate for the project
- Completed application form called Questionnaire SVE that you can find on the webpage: http://sve.jeunes-ca.fr/looking-for-an-evs/
If you are preselected you will be contacted for a Skype conversation. The final decision is expected in the beginning of April.
More Info:
More information about the vacancy can be found on the project website:
 http://sve.jeunes-ca.fr/looking-for-an-evs/association-noel-pandavoine/
VSI contact details:
ivp@vsi.ie
+353 1 855 1011
+353 87 336 7275
Any questions regarding EVS Vacancies? Contact Mateja in VSI: ivp@vsi.ie