EVS in Greece
Working with children and young people with disabilities in Greece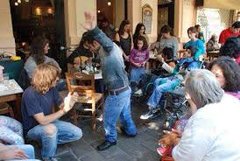 Project Title: PIKPA – PAAPAV
Theme: Disability

Project Description:
This project aims at the improvement of the quality of life of the residents of the Rehabilitation Centre for Disabled Children of Attica (PAAPAV), raising awareness of the local community and society generally on disability, acceptance of diversity and promoting the idea volunteering.

The work:
The EVS volunteers, through their enthusiasm and their energy will provide that extra element to make the daily life of the residents more enjoyable and interesting. The EVS volunteers will provide stimulation on cognitive and emotional levels through daily interaction with the residents of the institution through leisure-time activities such as handicrafts, cooking, outings, games, etc., there will also be some personal hygiene work and helping the residents at mealtimes etc.  One of the main activities of the EVS volunteers will be to accompany some of the residents on trips locally, PAAPAV hope that the local community will get to know them a little and learn to become more accepting of diversity and of people with disabilities as a part of society.

Qualifications/skills:
No specific qualifications or experience are needed but volunteers must be interested and motivated to work with children and young people with disabilities. Desirable qualities are patience and a sense of humour. This project would suit someone who is interested in working in the disability sector, nursing and health care, social care, occupational therapists etc. or anyone who is interested in learning more about the topic and/or about Greece.

Location:
Glyfada, Athens, Greece

Practical details:
You will receive free accommodation (at the hosting organisation in a very large single-sex twin rooms that volunteers will share, each room has its own bathroom), food, insurance and monthly 'pocket money'. The only thing you might have to pay is a very small part of your travel costs.

Other info:
1 volunteer from Ireland will volunteer alongside other EVS volunteers from 3 different countries.

Placement dates: Flexible start date, 10 months duration

Application deadline: Flexible
Application procedure:
Once volunteers apply, Mateja from VSI will take care of all the applicants.
Volunteers will be interviewed over skype by VSI/the host organisation.

More info:
This partnership is a project between VSI and the host organisation. VSI is the only organisation recruiting volunteers for this project and it is not listed on the EVS database.