Peace Garden in Durrow Abbey, Co. Offaly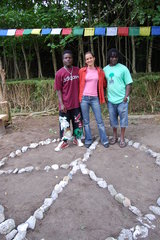 More than a half year has past now since I went on camp in Ireland with VIA/VSI, but the memories still live on. During two weeks in July, I had the pleasure of being in Durrow Abbey, on a Peace and Conflict exchange with an amazing group of young people and leaders from more than three continents. . We came there together to work and learn about peace and conflict, both in the world but also in our own lives.
Part of our mission was the creation of a peace garden, a place where people can come to rest and find peace. Two weeks we spent transforming a jungle of ivy into a quiet, peaceful and natural environment, a tremendous job but with a very pleasant outcome! We also had the privilege to have some very interesting people come to visit us and teach us more about about conflicts in the world and in our daily lives and learned how we can also influence these situations.
Going on a camp with VSI also means coming into contact with people from outside your everyday environment, meeting people in an international setting, and learning from each other. Our group was made up of a range of people from Africa, Asia and Europe, which gave the group unique feel. Meeting such diverse people from all different backgrounds, was for me a very interesting experience and gave me a chance to 'see' more of the world, even in a very little place in Ireland! I guess, that is one of the most beautiful chances we have on these camps and one of the reasons why I loved being in Ireland with that group so much. My whole experience not only gave me some beautiful moments, taught me at least a little bit more about the world and some different cultures, but also taught me more about myself and finding a place in this world.
In short, I had a amazing two weeks, I had the pleasure of meeting a lot of people and making new friends, all while learning more about peace and conflict resolution and experiencing the pleasure and the feeling volunteering offers one! Looking back to that period, as memories again come flashing by, and looking at the future, I would not doubt to say yes to another experience with VSI.
Kim Devoldere, Belgian Group, Peace and Conflict Youth Exchange, July 2008
Location Map