European Voluntary Service Programme
Would you like to volunteer in a funded volunteer programme in Europe for up to 12 months? 
European Voluntary Service (EVS) gives young people (18-30 years) the opportunity to volunteer in another country, either within or outside the EU.  The EVS programme is funded by the European Union as part of their official Youth Programme, it aims to develop solidarity, mutual understanding and tolerance among young people and to promote active citizenship.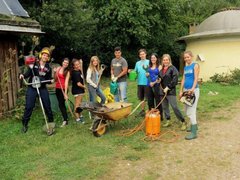 You will receive free accommodation, food, insurance and monthly 'pocket money'. The only thing you might have to pay is a very small part of your travel costs. EVS volunteers working for more than two months abroad can get additional support to learn the language used during their volunteering.
Projects last from 2 weeks up to 12 months, they can be individual or group projects.  As a volunteer you can work in a wide range of fields, such as youth, children, disability, environment, arts and culture, animal welfare, and development cooperation. At the end of your EVS period, you will receive a certificate confirming your participation and describing your project – the Youthpass
A successful EVS project requires close co-operation between the sending and receiving organisations and the volunteer. VSI has been accredited by the national EU agency in Ireland Leargas as an EVS coordinating, sending and receiving organisation and we have many years experience of sending EVS volunteers. We support volunteers at all stages of an EVS project:
Providing info
Support with finding and applying for a project
Preparation/pre-departure training – VSI provides a thorough and comprehensive preparation programme to our EVS volunteers. This includes info on your EVS project and host organization, roles and responsibilities, understanding the EVS programme, what to expect and what to bring, insurance info and registration, finances and budgeting, visas/work permits, intercultural learning, dealing with culture shock. 
Support during the project – once registered with VSI as your sending organization VSI will keep in regular contact with you at all stages, including during the project placement.
Debriefing, evaluation and 'next steps' after the project. 
 Find a project:
Organisations select the volunteers that they would like to host on the basis of the interest, motivation and enthusiasm that the volunteer will bring to the project. You are not expected to have qualifications or experience in any particular area and you cannot be excluded because you don't have them. It is important to select a project that you are genuinely interested in. 
Application process:
Follow the instructions at the project description, usually it's similar to applying for a job and you will need to send them your CV and a motivation letter, some will ask you to complete an application form, sometimes with a section for you to forward to your sending organisation to complete. If the receiving organisation feels that you would be suitable for the position they will usually contact you to arrange an interview via Skype. Please let us know if you are invited for an interview.
 Once selected, VSI and the receiving organisation will contact each other and complete the application form and documents. Usually it takes approximately 8 weeks for the EVS project to be formally approved.  As soon as we hear about approval we will be in touch with you and begin the preparation process.  
It usually takes a few months between finding a project, being accepted and starting so start your project search as early as possible. 
The programme works by helping volunteers to make contact with accredited hosting organisations. Organisations select the volunteers that they would like to host on the basis of the interest that the volunteer brings to the project. You are not expected to have qualifications in any particular area and you cannot be excluded because you don't have such a qualification. In the end, however, the organisation will select the volunteer(s) it will work with so it is important to select project that you are genuinely interested in. You should also take care to make it clear to potential hosts that you are very interested in their work and would like to contribute to the organisation.
Preparation
Our staff will meet with each volunteer, and together with the volunteer they will organise an appropriate preparation and orientation programme for all aspects of their volunteer project. This includes:
meeting with former long term volunteers
visits to similar projects in their locality
learning the local language of the project
practical issues - insurance, finances, visas, health etc
In addition, EVS Volunteers join in pre-departure and on-arrival training in the country they are going to.
To register with VSI as your sending organisation tell us a bit more about yourself. Complete the EVS Volunteer Application Form
IMPORTANT: In general an individual can take part in only one EVS, and the maximum duration is 12 months. There is an exception to this if the volunteer takes part in a group EVS project up to 2 months but this would be arranged specially, contact us for more info.  Also, if someone would need extra help to volunteer on the EVS programme, for example if you left school early or if you have a disability, then it's possible to take part in 2 EVS projects, up to a total of 12 months.  If you would like to take part in an EVS and think that you would need extra help you can contact us to discuss it privately, please contact Helen: helen @ vsi.ie, or talk about it with your youth worker.
 Like to find out more?
Stories from some of our EVS volunteers: (scroll down to European Voluntary Service)
Info from Leargas, the Irish National Agency for EVS: http://www.leargas.ie/wp-content/uploads/2016/02/EVS-Volunteers-Promo-Flyer-Online-Version1.pdf
General EVS info from the EU:

VSI contact details as a sending organization:
Contact person: Helen Walmsley
Email: helen @ vsi.ie
Mailing address: 30 Mountjoy Square, Dublin, DO1 Y6R9, Ireland
VSI are here to help you at any stage of the EVS process, please do contact us for any support:
email: helen @ vsi.ie                        office: 01 855 1011                mobile: 086 264 3610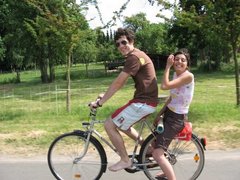 Etienne Corish cycling