VSI Teenage Programme Projects 2013
Living in Dependence II: Sharing the Message
The second stage of the Living in Dependence Youth Initiative project has been running since March and will continue until December. The project aims to share the challenges, frustrations and experiences of living as a young person seeking asylum in Ireland, through film, non-formal education and multimedia. The first stage of the project involved the making of a film which was launched in 2012 by the Lord Mayor of Dublin in the Irish Film Institute. The second stage of the project focuses on sharing the experiences of the young people seeking asylum, empowering them to become advocates for change and enabling them through workshops and training to share the message through non-formal education activities.
The young people are learning how to articulate the challenges they encounter on a daily basis such as accommodation, access to education, religious beliefs, racism and mental health. They are using social media and multi-media to share these experiences and challenge some of the perceptions of asylum seekers that they believe exist in society.
 The project can be followed on Facebook – www.facebook.com/livingindependenceII and on Twitter @LIDVSI.
 "Asylum seekers with degrees are better prepared for work. If we are allowed to study we can contribute better to society."   Participant
 Migrations Youth Exchange August Tipperary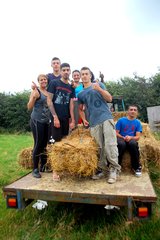 Young people volunteering on the Cloughjordan Community Farm during the Connecting Communities Youth Exchange
 The Migrations Youth Exchange was a creative exploration of migration and identity with twenty-six young people from Serbia, Macedonia, Spain, France and Ireland. Many of the young people involved originally came from countries in Africa, Asia and Latin America and spent the ten days taking part in drama workshops. They also created music, dance and drama pieces which they performed for the local community at a final show. The project took place in Cloughjordan's ecovillage in August.
Connecting Communities Youth Exchange July Tipperary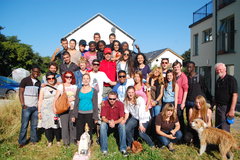 Group photo during the Connecting Communities Youth Exchange
 Group photo during the Connecting Communities Youth Exchange
 The Connecting Communities Youth Exchange took place in Cloughjordan's ecovillage in Co  Tipperary, and included twenty-four young people and a team of eight youthworkers, facilitators and volunteers from Hungary, Ireland, Italy, Spain and Scotland.  The ten-day project included non-formal education workshops on the theme of community development, leadership and youth participation. The group also volunteered on Cloughjordan Community Farm and organised an intercultural event for the community.

Erasmus symbol  All these youth exchanges and projects were co-funded by theErasmus +  Programme of the European Commission.