Dialogue for Change
Dialogue for Change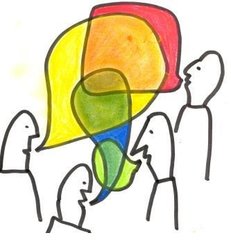 Voluntary Service International's project Dialogue for Change enabled 30 young asylum seekers living in Ireland to meet and enter dialogue with policy makers on issues impacting their lives. The young people prepared the issues they wanted to discuss at a residential weekend workshop, and held a day long dialogue seminar in Dublin among many other activities.
Grace Walsh was interviewed by Leargas for their annual report about the project
'We spoke to Teenage Programme Co-ordinator Grace Walsh about the project.
How did this project come about? VSI have worked with young asylum seekers for years, and we had recently created a film through a Youth Initiative project. We found that the groups were getting more and more confident and wanted to bring things to the next level, which for them was a dialogue project.
Who were the young people involved? The project was originally aimed at over 18s as they would have left school and be more available to participate, but in the end the participants were mostly aged 16 to 19. A big surprise to us was how committed the under 18s were – they made time for it even while studying for their Leaving Certs. The majority were in Dublin and either in foster care or in hostels, as it's very difficult to contact people staying in Direct Provision. As a result of the project though we've now established some contact with asylum seekers in Direct Provision in Limerick, Cork and Galway. There were 22 participants at the first residential weekend, either those who were seeking asylum or who had just got their papers. We structured the whole project around that residential weekend, where the young people worked out the issues they wanted to focus on. "It's shown them they do have a voice, even if it's sometimes muted"
What were the key issues for them? Access to third level education was a big one because asylum seekers can't attend college unless they pay non-EU fees, which are astronomical. Another one was being labelled and stereotyped as an 'asylum seeker', rather than just as a young person. And maybe the main issue was conditions in the Direct Provision centres – the day to day problems of access to food, lack of privacy, lack of safety, and surviving on €19.10 a week (the weekly stipend payable to asylum seekers).
What were the main challenges ? Contacting policy makers was tough – it was particularly hard to get TDs involved, but as it was close to the local elections we got local candidates involved in the end. For the young people themselves it was such a huge thing to speak on a public platform. Actually one of the participants had told me she was frustrated with all the talking they did at the residential weekend, but on the dialogue day she realised it was because of all that preparation that she was able to articulate her thoughts and feelings.
How did the dialogue day turn out?
It was a big success. We held it in Smock Alley theatre and it was facilitated by Dil Wickremasinghe (pictured ) from Newstalk. She ended up doing an interview with two of the asylum seekers and myself on her Global Village programme. That was a huge thing for them and for us, to have two young asylum seekers on national radio talking about their lives. It was the first time many of the young people had been able to speak directly to the people whose decisions affect them, and I think that was really powerful for both sides. The project gave the young people a safe space to talk openly and a chance to have fun, which they don't always get.
What changes have you seen in the young people since you began the project? It's given them a good understanding of campaigning methods. They've learned how to use multimedia and social tools so it's not just their own voice, but a group action. We've also seen them become more open to different opportunities. They've gotten so much confidence from it, they're much more passionate and motivated and willing to speak about the issues that affect them. You can see it on our Facebook group – at the beginning it was just me posting, but now they're all chipping in with news or articles they've seen. They're more politically engaged and it's shown them they do have a voice even if it's sometimes muted. They now want to motivate other asylum seekers to get more active and involved. Play the Global Village podcast Snapshot: Dialogue with